---
Amazon.com distribution center in Oak Creek up for plan reviews
26

Aug 2018

A four-story distribution center reportedly planned for Amazon.com Inc. in Oak Creek is coming up for a city design review on Tuesday.

The roughly 2.6-million-square-foot e-commerce center would fill out 75 acres in the planned Ryan Road Business Park east of Interstate 94. The building is reportedly proposed for Amazon.com, which has been considering the Milwaukee area for a new multi-level distribution center.

The Oak Creek building would have at least 1,000 employees onsite for two daily shifts, operating 24-7, according a filing with the city of Oak Creek. The building includes more than 47,200 square feet of office space. Oak Creek's Plan Commission will review the building proposal on Tuesday.

Don Schoenheider, Midwest market leader in the Chicago office of Hillwood Development Co. LLC, filed the application for the building. Hillwood is Dallas-based developer founded by Ross Perot Jr. who has worked with Amazon.com in the past in other states.

Schoenheider was not immediately available for comment.

Capstone Development of Waukesha and General Capital Group of Fox Point are developing the business park itself.

Andrew Vickers, Oak Creek city administrator, said the Common Council on Sept. 4 is to review development agreements with Hillwood and the business park developers. A separate development agreement between the city and the prospective tenant of the building could be considered by the council on Sept. 18, he said.

The city is not identifying that prospective tenant, Vickers said.

"The user is not necessarily completely committed to the project at this point," he said. "There is no signed lease."

The city has already considered a tax incremental financing district to raise money for construction of the business park.

In an unusual move for the Milwaukee area, the distribution center would stand 75 feet tall with four levels. That configuration is more commonly used in areas where land costs more money.

Robotic equipment would do the majority of the work in the upper levels of the building, according to the plans. Employee work areas would mostly ring the exterior walls of those upper floors, and people would only enter the "robotics field" in the center of the floors if there's a robot malfunction, according to the plans.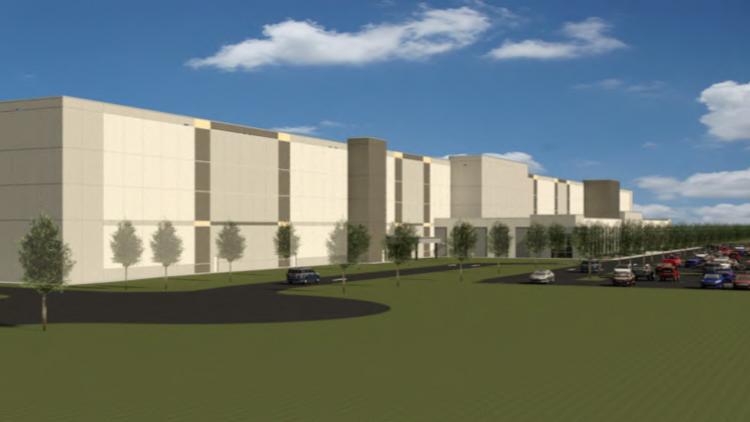 Hillwood also is seeking approval from the state of Wisconsin to fill 3.1 acres of wetlands for the building. The Wisconsin Department of Natural Resources has made a preliminary decision in favor of the project, but will hold a public hearing on Aug. 29 in Oak Creek to gather public comments on the proposal.
Source: Biz Journals